A promotional campaign will launch in September and the full series is set to release October of 2023!
It's rather silly that I ever imagined completing this series without rewriting the first two novels. A lot changes in fifteen years—too much. So, in January I undertook reworking this series as a whole, to tell a stronger, more cohesive story that better represents who I am today as an artist and as a person.
The rewrite was a success. I now have in my possession a completed trilogy. It's emotional, subversive, epic, intimate, and gutsy (in more than one sense of the word.) I am so very proud and deeply in love with this story. Now the journey to publication has begun.
In September, I will be launching a promotional campaign with the opportunity to purchase advanced copies, Soolie swag, limited edition signed copies, and even custom art inspired by the series. Each purchase will come with a bonus content PDF of world-building definitions, character lists, artwork, and notes from the author—that will only be available to folx who participate in the campaign.
In October (spooky reading month!) the series goes live. For real, for good, for better or worse.
It's happening.
I hope my heart can take it.
See you there,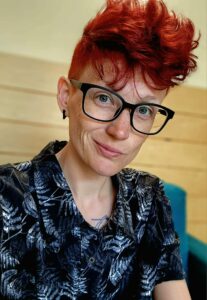 Skel